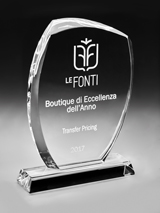 10 July 2017
Vasapolli & Associati wins award as Best Tax Law Firm in Italy
On the 7th June 2017 at the headquarters of the Milan Stock Exchange, Vasapolli & Associati was awarded "Best Italian Tax Law Firm", in the "Boutique Firm Excellence - national tax law" category, at the International Le Fonti Awards.
This high-profile sector award was given to Vasapolli & Associati also as recognition of the unique agreement with the Italian Tax Authority (Agenzia delle Entrate) signed on January 2017 establishing that all the Italian Tax Authority officials have free access to the portal ilVasapolli.it in all its functions, in particular the online version of the book "From the financial statement to the business income" ("Dal bilancio d'esercizio al reddito d'impresa") by Guido Vasapolli and Andrea Vasapolli, which is constantly updated throughout the year, and the Newsletter curated by the authors of the book themselves.
Some of the most prestigious Italian tax and law firms were among the winners in other categories: Macchi di Cellere Gangemi, Pirola Pennuto Zei & Associati, CBA Studio Legale e Tributario, Legance, LabLaw, Studio Legale Sutti.